SHANGHAI FASHION WEEK MENSWEAR SS20: THE TRENDS TO KNOW
As a talent spotter and expert in new trends, PROMOSTYL comments on and analyses the latest SS20 trends presented by young Chinese brands during Shanghai Fashion Week. Inspirations, star pieces and key details: a review of these collections with a restricted yet nonetheless (very) definite influence.
TECHNO
Fluoro colors are teaming up with ultra-functional garments this season, and designers are not shy with large flap pockets coming on parkas, shorts and trousers. A techno aesthetic featuring summer-cool bob hats and futuristic glasses, as well as light nylons and cotton twills.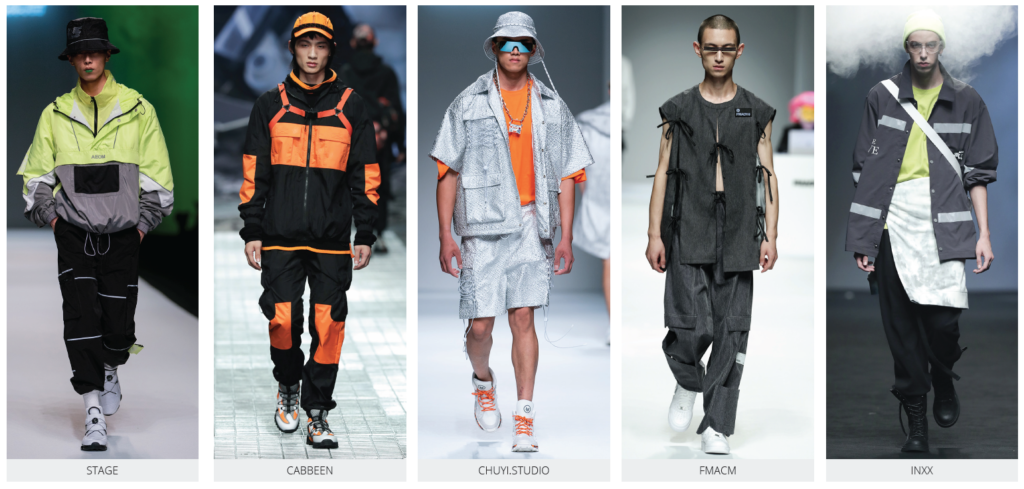 SPACE ADVENTURE MAN
Walking on the moon or boarding a spaceship for a long outterspace travel is the new cool at Shanghai, infulencing silhouettes with survavlist, functional & protective fea­tures. Harnessed silhouettes are showcasing wide nylon parkas and overalls with multiple storage details such as giant zipped-up pockets. Chunky sneakers are providing extra utility teamed up with elasticated drawstrings and functional straps.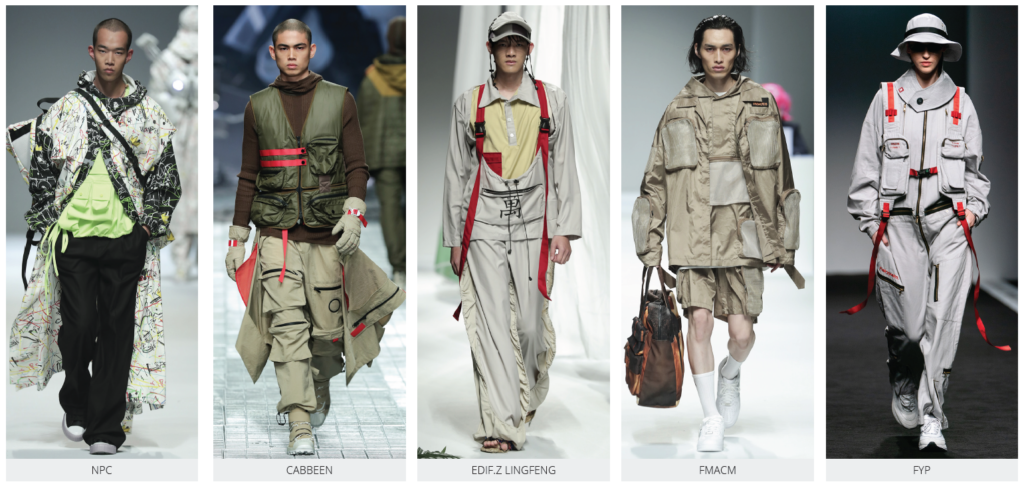 TIE & DYE PRINT
Bleached, overdyed and gradiant colors were a general move toward punky-romantic, futuristic streetwear at the menswear shows this season. Denim trousers are rewor­ked with tie-dye bleach at Lifegoeson as well as hoodies at Inxx; and gradiant colors are showcasing lunar-landscape silhouettes at FYP and FMACM. 90's aesthetic was shown at Unrow featuring a tie-dye color-block t-shirt.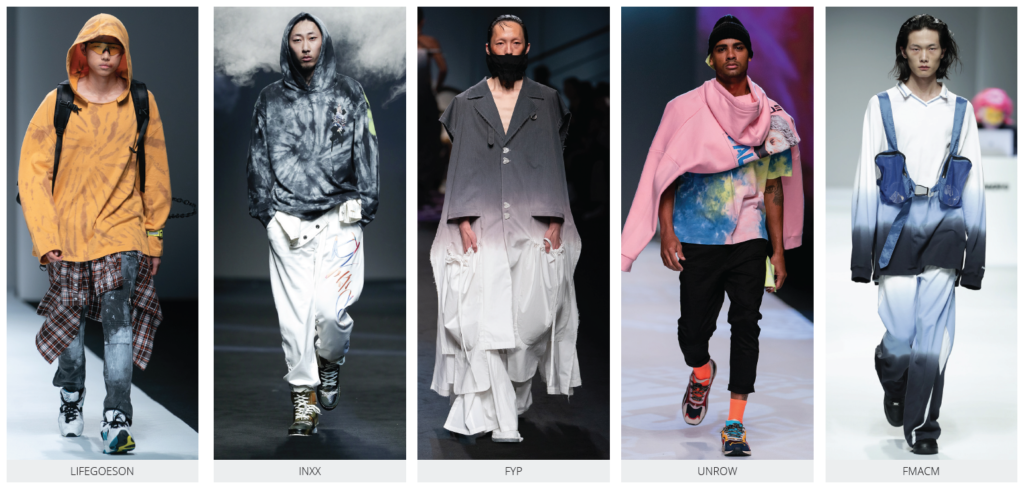 FUTURISTIC ROMANTIC
A new take on romance, shown this season, is renewing silhouettes with futuristic impulses. Pesley pattern, delicate shiny sequins and lace are modernized with contempo­rary cuts, and showcase a romantic man, all with refined details and hybrid streetwear touches.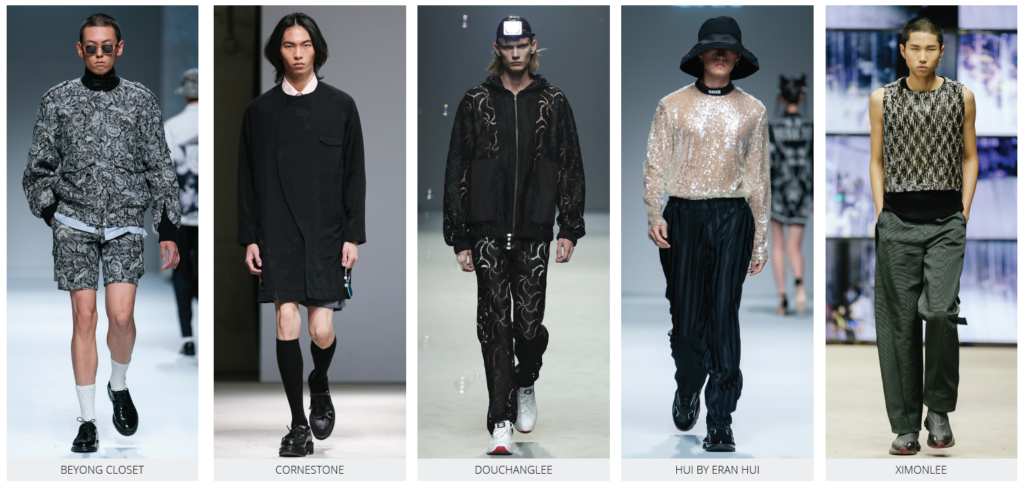 UNUSUAL CUT-OUTS
Openwork, asymmetries and reworked pieces were showcasing unusual, ultra-modern silhouettes this season. From two-in-one panel t-shirts at Lucio Vanotti, slanted cut-out shirts combined with asymmetrical shorts at Edi.Z Lingfeng, to rounded cut-outs at Unrow and Cabbeen; designers played with volumes and subtle nudity.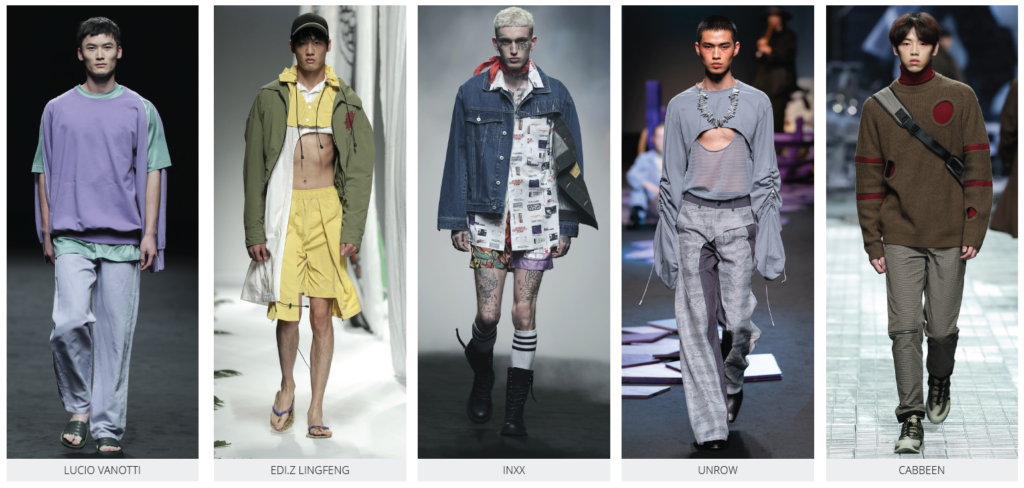 HARNESSES
Designers broadcasted edgy looks showcasing chest-spanning harnesses this season, worn as new functional braces. Harnesses played with extra storage and fastening functions, shaping new volumes on modern survivalist-streetwear silhouettes. A high-end fashionable item to wear over multiple looks.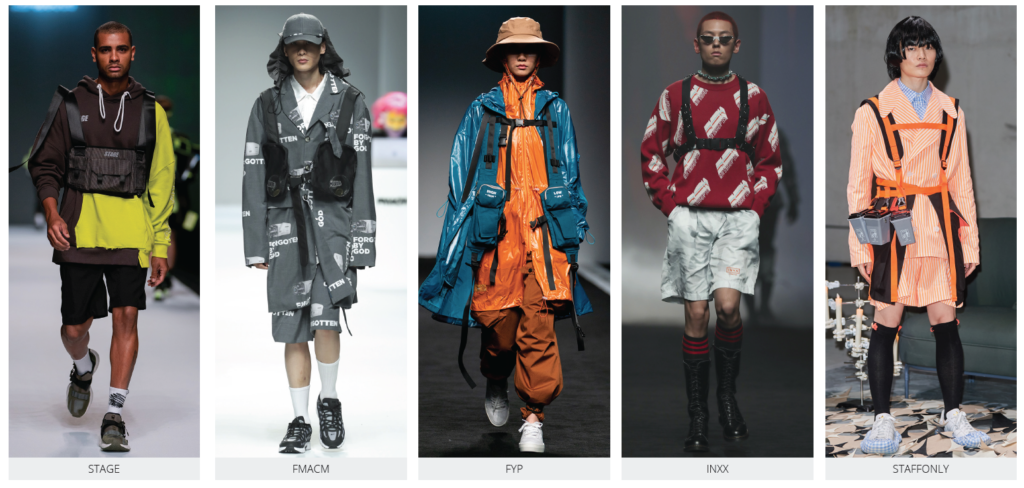 LOGOMANIA
Logos are coming as prints this season, in all over on co-ord sets seen at Songta, or on a body-skimming sweater at Chuy.Studio and wollen sweater at Hui By Eran Hui. Logos are also coming as slogan message printed on top garments as seen at Inxx and FYP.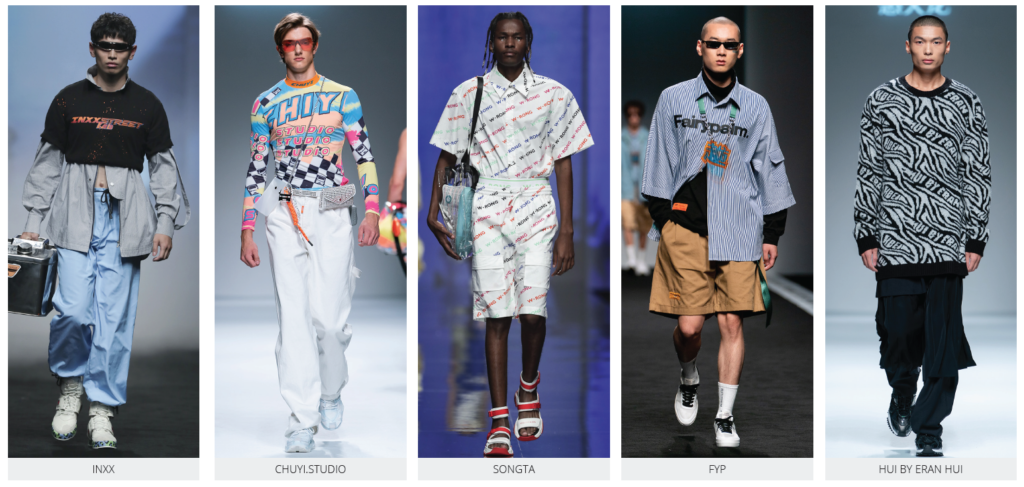 PASTEL VARIATIONS
Pastel and sorbet colors are joining forces this season on monochromatic looks as well as sporty color blocks.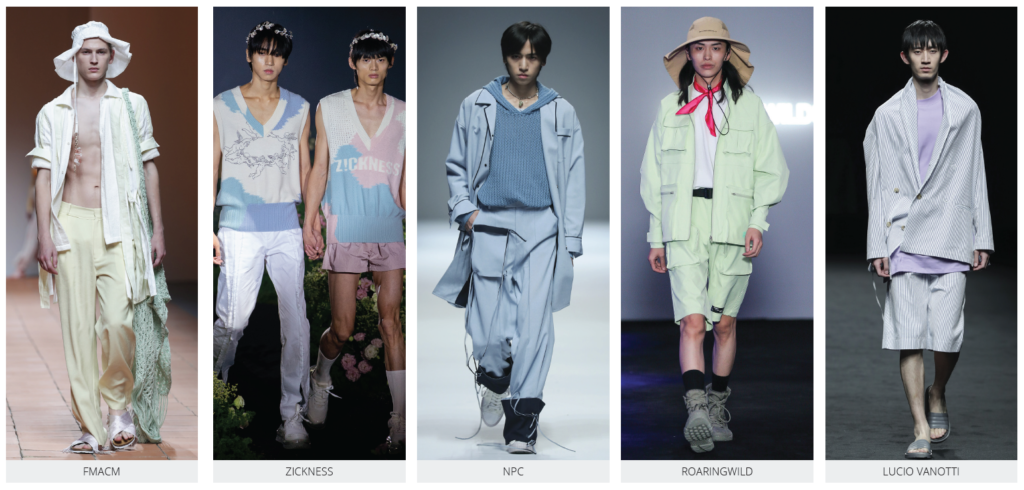 SHIPWRECKED SAILOR VIBES
This season, designers chose to revisite sailor style with re-assembled pieces. From cords weavings, oversize crochet knits in a fishnet style, to rope belts; sailing aesthetic is renewed into a shipwrecked recomposed wardrobe.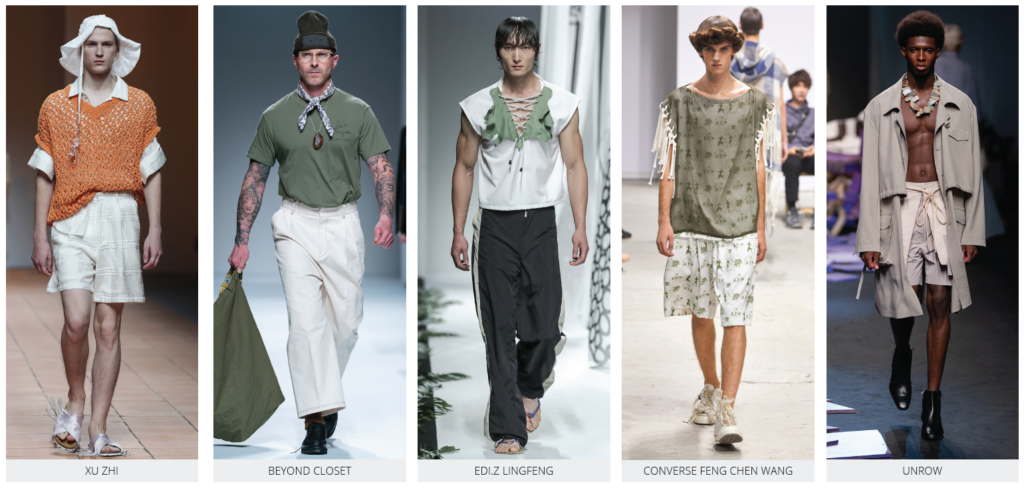 LIME GREEN
Lime green is celebrating modernity this season, showcasing sporty tailoring, arty silhouettes as well as streetwear utility looks.