Iris van Herpen creates a state of hypnosis with her latest haute couture collection
Fashion designer Iris van Herpen drew inspiration from artist Anthony Howe's kinetic sculptures to create a series of delicate and hypnotic silhouettes for her latest fashion show in Paris.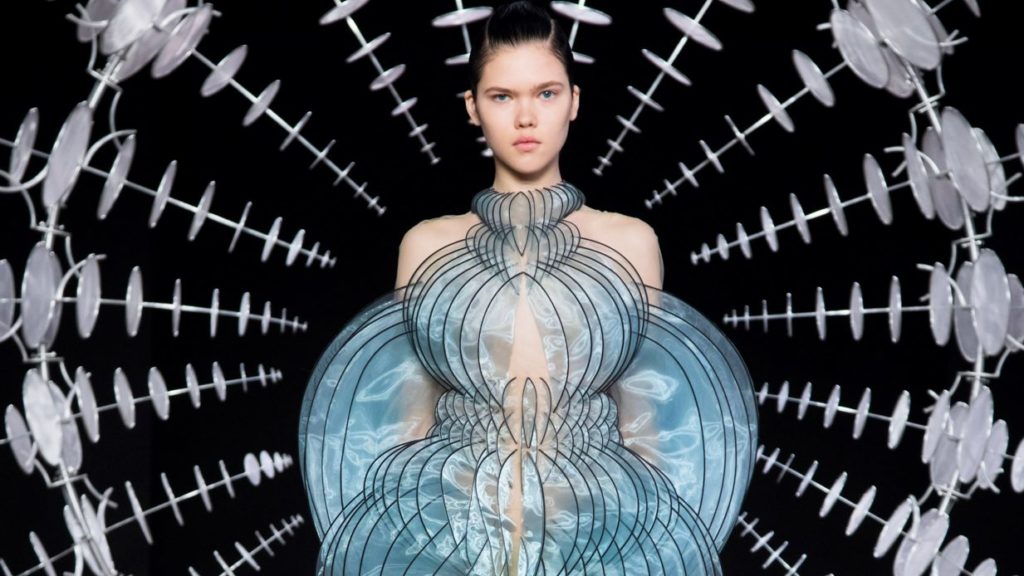 A collection that pays homage to nature
Entitled 'Hypnosis', the new haute couture collection by Iris Van Herpen immediately sets the tone. Presented on 1 July in the intimate setting of the Elysée Montmartre in Paris, this new opus, composed of 19 sculptural silhouettes, aims to reflect « the beauty and complexity of our environment » by imitating delicate patterns and structures found in nature.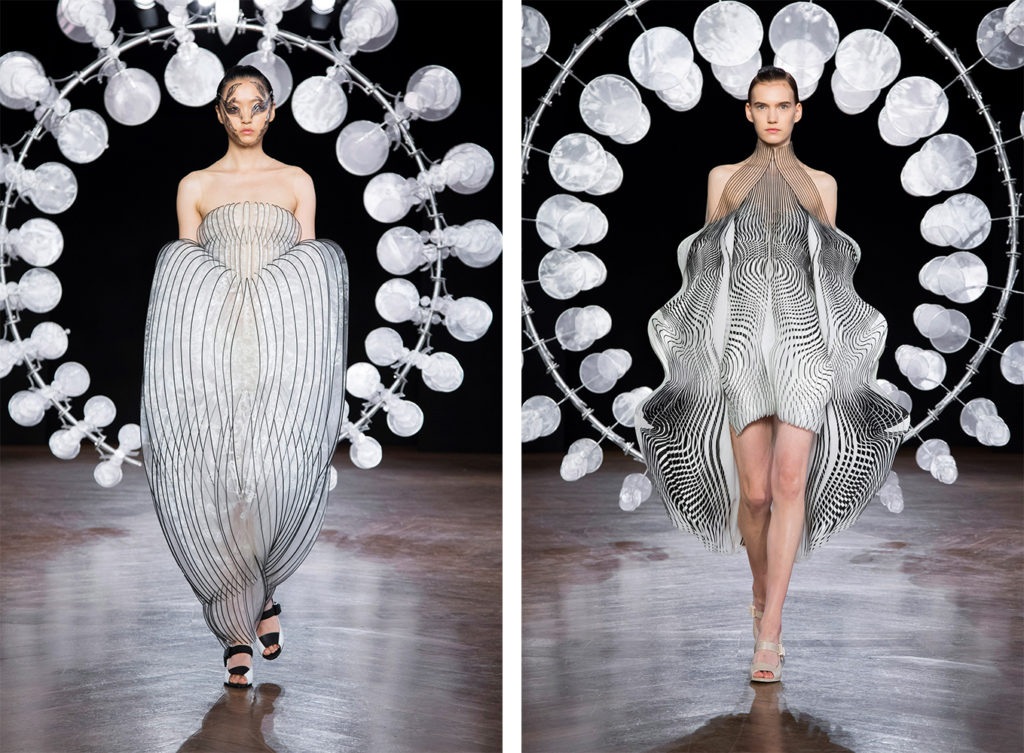 Combining technical virtuosity and craftsmanship, the collection brings together elegant and refined materials, such as silk organza and duchess satin, with structural elements in aluminium and stainless steel. Notably, ancient silk moiré weavings are used for some pieces in the collection, which use several layers of undulating fabric to create the illusion of a shimmering surface.
« The Hypnosis collection is a hypnotic visualisation of nature, symbiotic cycles of our biosphere that intertwine the air, land and oceans, » explains the Dutch designer. « It also reflects the ongoing dissection of the rhythms of life and resonates with the fragility of these interlaced worlds », she adds.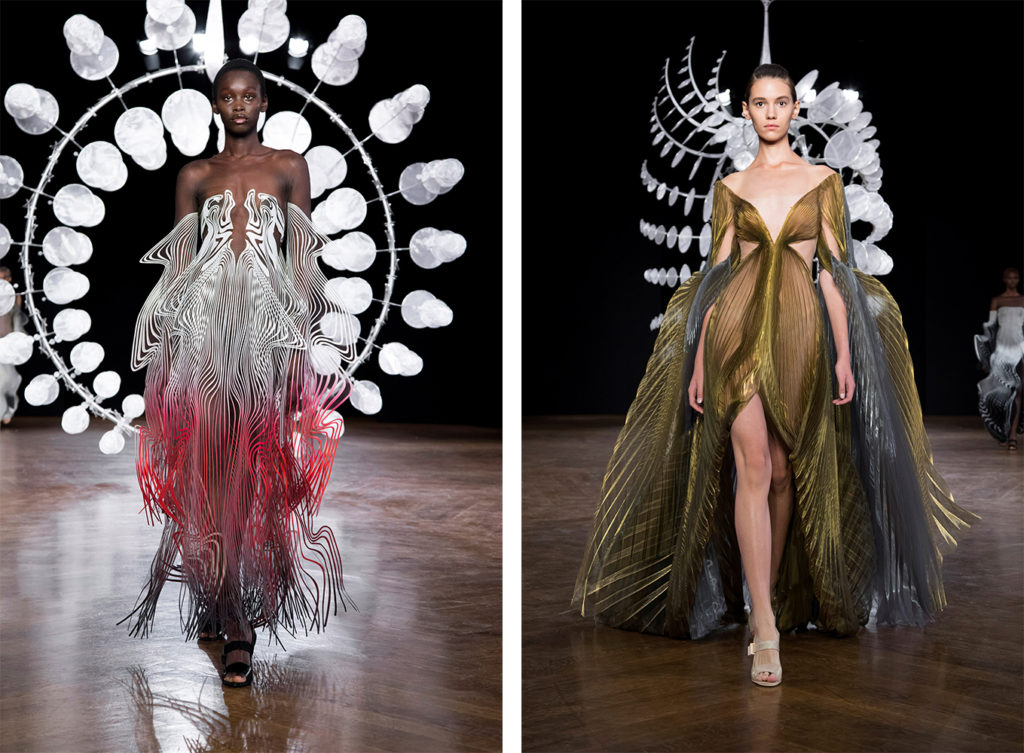 Hypnosis, clothing in motion
Developed in collaboration with experimental sculptor Philip Beesley, the technique used to create Hypnosis, which characterises the structure of each piece in the collection, consists of ingeniously cutting pieces of duchess satin printed with a tracer to create tens of thousands of mini-waves, measuring just 0.8 millimetres. These are then linked together to create fast, elliptical visual effects that relate to body movements.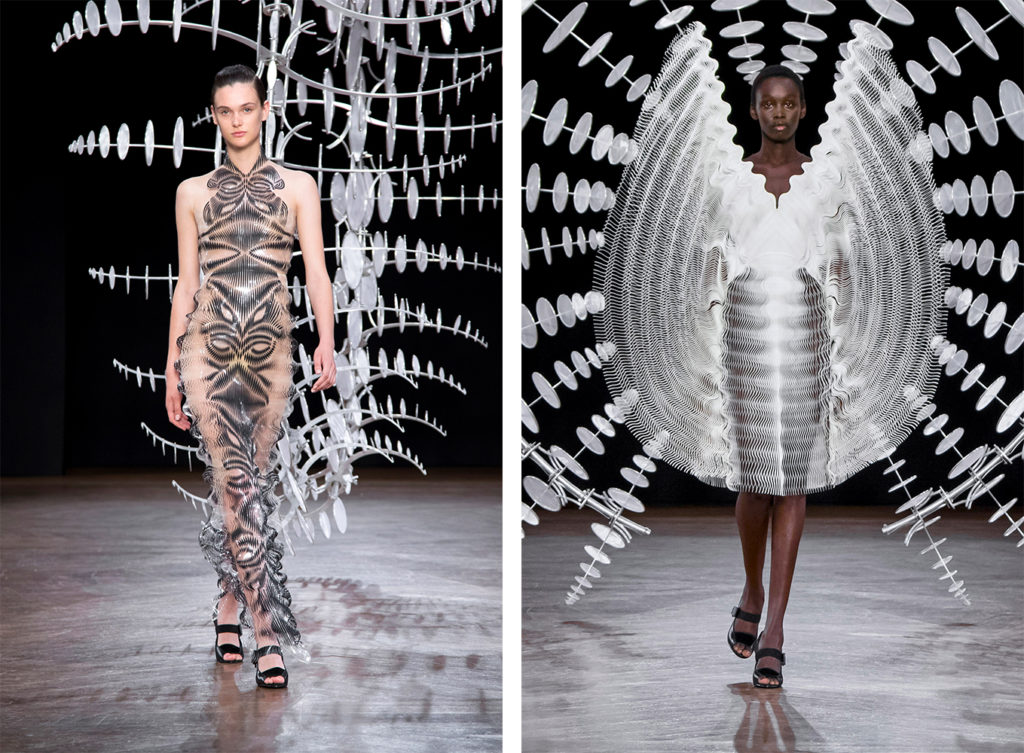 Some outfits, like the Infinity dress that concluded this dream-like show, appear to be in constant motion. In fact, the skeleton of the dress was made of an aluminium and stainless steel mechanism which, covered with thin layers of feathers in a cyclic configuration, created the effect that the dress was turning in on itself.
A hypnotic effect that was further enhanced by the staging of the show: the models treading the catwalk had to traverse Omnivers, a spherical sculpture in the style of a lunar gate created by Anthony Howe. Welcome to fashion that invites us to dream awake, against a backdrop of existential metatheatre.