THE NEW CLASSIFICATION OF PROMOSTYL'S "ECO FRIENDLY" TEXTILES
If consuming more efficiently is a major social issue, it is also a distinct competitive advantage for the players of the fashion world. This is nothing new – because fashion is one of the industries that pollutes the most on the planet, textile designers are vigorously getting a grip of environmental themes.
One of these players is PROMOSTYL, which with a view to responsible and sustainable consumption, wishes to continue its commitment and involvement in textile recycling by promoting more ecological textiles in its Trend Books.
In light of this challenge in the fashion industry, PROMOSTYL has taken the initiative to develop an entirely new classification consisting of 3 pictograms relating to the different categories of so-called ecological textiles, thereby combining the pressing necessity for more sustainable fashion with the drive for innovation of a ready-to-wear industry in constant search of novelty.
The aim of this classification is to allow our customers to easily pick out the ecological textiles presented in our Trend Books with clear and understandable symbols, in order to guide them as best possible in their search for materials. 
See the classification of ecological textiles created by PROMOSTYL below: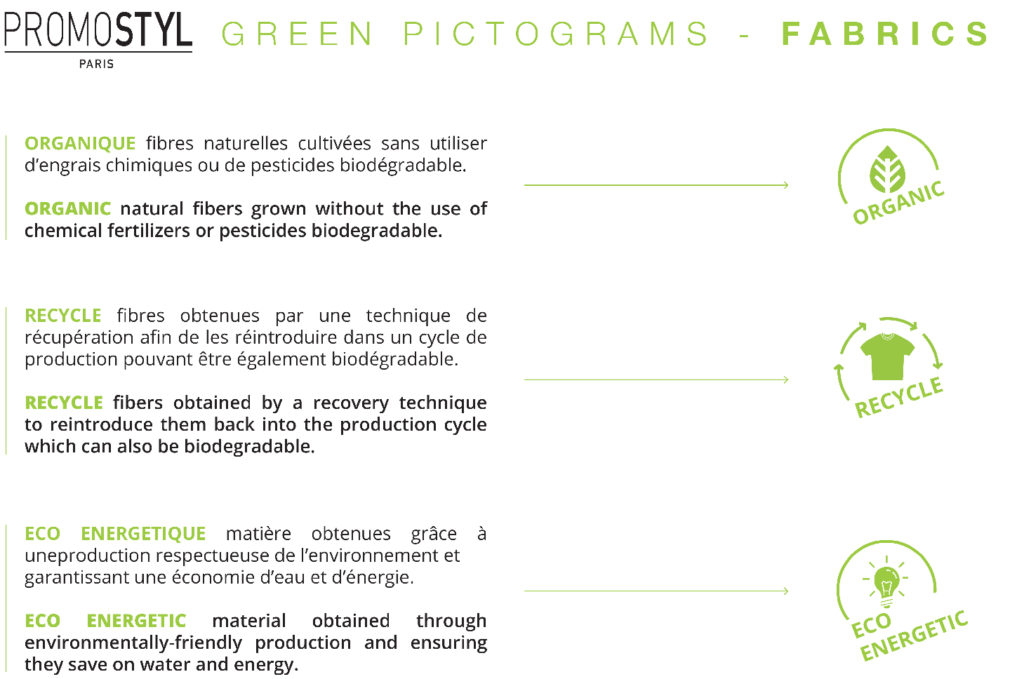 This classification can be found in the release of the next Spring-Summer 2021 Men's, Women's and Women's Casual Trend Books, as well as in the PROMOSTYL Blog – Textile Section articles.